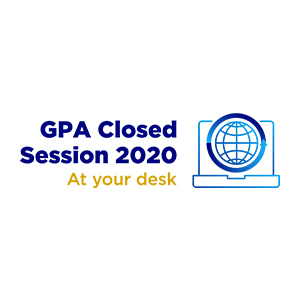 The 42nd Global Privacy Assembly Closed Session took place virtually on 13-15 October, with more than 100 members and observers joining together to consider key data protection and privacy challenges.
Opening the session, Elizabeth Denham, GPA Chair and UK Information Commissioner, highlighted the value of the Global Privacy Assembly's work in raising data protection and privacy standards around the world through regulatory co-operation, and how the GPA work continued despite the COVID-19 pandemic.
Ms Denham said: "It is important that the GPA continues to modernise. It is important we continue to find ways to collaborate, so our collective wisdom can help us take better action individually. We are outward looking and have found new ways to connect with the outside world – from partnering with key international organisations such as OECD to engaging with tech companies on data protection by design. Our approach to engagement is modern and dynamic, making new ground this year."
That theme ran through the three-day conference.
Resolutions were discussed and agreed, giving a shared view on topics including:
Facial recognition technology, recognising the importance of acting now, with a commitment to finding a common GPA position on a technology that can be privacy intrusive and discriminatory;
Artificial Intelligence (AI), where GPA members are encouraged to work with organisations in their jurisdictions that develop or use AI systems to implement accountability measures; and
Humanitarian aid, where the group committed to a renewed focus on safeguards to protect personal data in this area of international activity.
Resolutions were also agreed on the GPA's voice – a modernisation of the rules and procedures that will allow the GPA to work as a 'year-round' organisation and make statements at the right time, and with greater impact. Commissioner Angelene Falk, Office of the Australian Information Commissioner (OAIC), introduced the resolution noting this "initiative is another way in which the GPA is pivoting to ensure that we are actively engaging on issues in a pragmatic and relevant way. It is the next step in our continued modernisation."
The resolutions are published on the GPA website.
Commissioner Raymund Liboro, Philippines National Privacy Commission, led a detailed session on the work of the GPA COVID-19 Taskforce. Colleagues from PCPD Hong Kong, Dubai IFC, ICO (UK), and OAIC (Australia), updated members on shared best practices, capacity building activities, and common privacy risks and challenges during the pandemic. This included a Compendium of Best Practices in Response to COVID-19.
As the Chair of the Taskforce, Mr Liboro presented a resolution that proposed the creation of a temporary working group to continue the work of the Taskforce in building and strengthening the GPA's collective capacity in responding to challenges arising from pandemic.
Mr Liboro said: "We have maximized the GPA's voice and influence during this pandemic – this time when the world needed our guidance. In a short span of time, with all the other pressing matters that we had to deal with individually, in our own homes, our own organizations, our own jurisdictions, we found time to come together and collaborate with our GPA community."
Commissioner Angelene Falk, OAIC and chair of the GPA Strategic Direction Sub-Committee, updated members on the progress on the GPA's strategic plan and policy strategy. The GPA Working Groups, which make practical progress towards that strategy, shared their achievements and their plans for 2021.
Ms Denham extended her warm welcome to the following new GPA members and observer:
Office of the Privacy Commissioner of Bermuda, Bermuda
Cayman Islands Ombudsman, Cayman Islands
Data Protection Commissioner, Dubai International Financial Centre
Canton of Bern: Data Protection Commissioner (Datenschutzbeauftragter des Kantons Bern), Switzerland
European Consumer Organisation (BEUC) – Observer
The results of the GPA Executive Committee election were announced:
Raymund Liboro, Privacy Commissioner and Chairman, Philippines National Privacy Commission, stood down having completed his full two-year term;
Angelene Falk, Australian Information Commissioner and Privacy Commissioner, Office of the Australian Information Commissioner, was re-elected for a further two years; and
Ulrich Kelber, Federal Commissioner for Data Protection and Freedom of Information (BfDI), Federal Republic of Germany, was elected to the Executive Committee for a two-year term.
Closing the online conference, Ms Denham said: "We needed to hold this year's closed session for two reasons. Firstly, we simply could not lose our momentum on important work. Secondly, we needed to hold this year's closed session because our community has never been more important.
"The adoption of digital technologies and innovations has accelerated faster than any of us could have predicted. And with this acceleration comes an enormous appetite for personal data. As data protection and privacy authorities, we must respond. We must respond to this growth in data gathering, and more sophisticated data processing. We must respond to state use of data in response to the pandemic. And we must respond to changing attitudes to data. We do so best as a modern, collaborative community."
For more information on the GPA's main achievements this past year, see the Annual Report of the GPA Executive Committee 2019-2020.
Looking ahead, the 43rd Global Privacy Assembly will be hosted by the National Institute for Transparency, Access to Information and Personal Data Protection (INAI Mexico), and will take place in Mexico City on 18-22 October 2021.
More information available at globalprivacyassembly.org