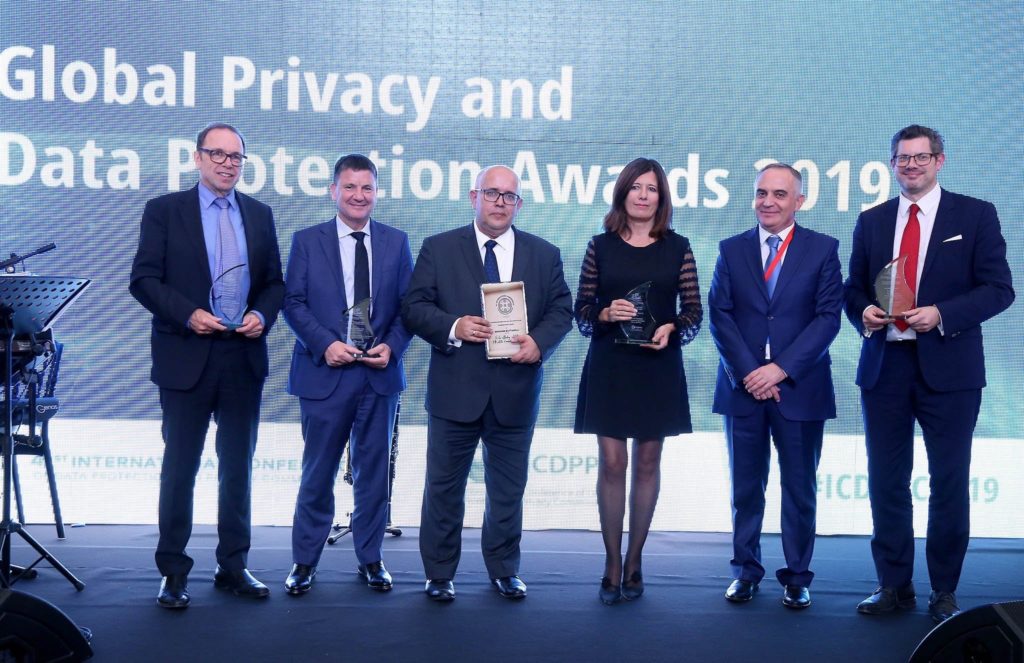 The Global Privacy and Data Protection Awards 2019 were celebrated last night at the 41st International Conference of Data Protection and Privacy Commissioners (ICDPPC) in Tirana, Albania.
Now in their third year, the Awards celebrate the achievements of the entire ICDPPC community and shine a light on good practice.
Elizabeth Denham CBE, Chair of ICDPPC and UK Information Commissioner, said: "The awards celebrate the creative ideas, the practical innovations and the brilliant people we are privileged to call part of our community. I hope the winners not only take home their award but also the pride that goes with that – to have been recognised by your peers."
This year's winners are:
Education and Public Awareness Award
Winner: Data Protection Authority of the Canton of Zurich, Switzerland
Project: Educational Resources for Children aged 4-9 years old
Bruno Baeriswyl, Privacy Commissioner, Data Protection Authority of the Canton of Zurich, said: "To receive an award by the ICDPPC is a great honor and encouragement for our Authority to continue our work in the area of education."
Dispute Resolution and Enforcement Award
Winner: Office of the Privacy Commissioner, New Zealand (OPC)
Project: Inquiry into the Ministry of Social Development
John Edwards, New Zealand Privacy Commissioner, said: "My office is honoured to receive this award from the ICDPPC. OPC is particularly humbled given the calibre of entries from other data protection authorities. We are proud to have successfully advocated for the privacy rights of vulnerable members of New Zealand society. Our inquiry and resulting report illustrates that personal information is about people. Misusing that information can cause measurable harm – especially to individuals who have to depend on the welfare system to support themselves and their families. These people are entitled to fairness in the system. I do want to acknowledge the cooperation of the Ministry of Social Development and its commitment to fixing the wrongs identified in our report."
Innovation Award
Winner: European Data Protection Supervisor (EDPS)
Project: Website Evidence Collector Tool
Thomas Zerdick, Head of IT Policy Unit at the European Data Protection Supervisor, said: "Global Privacy and Data Protection Award in 'innovation' emphasises that the data protection authority can approach its enforcement tasks in a modern and technically sophisticated way to address new and evolving challenges to data protection and privacy. We are also proud to share the software with other DPAs, civic society and individual 'privacy geeks' making it a freely accessible open source."
Accountability Award and People's Choice Award
Winner: Agencia Española de Protección de Datos (Spanish DPA)
Project: FACILITA_RGPD Tool
Ms Mar España Martí, Director of the Agencia Española de Protección de Datos (AEPD), said: "These awards are a great satisfaction for the Spanish Data Protection Agency, as they represent a recognition of the hard work of all its staff and also of its commitment to support organizations, in particular small businesses, to provide a high level of protection of the personal data they handle."
Albanian Information and Data Protection Commissioner's Award
Awarded to Giovani Buttarelli to recognise his outstanding contribution to the protection of personal data and privacy. Besnik Dervishi, the IDP Commissioner, handed the award to Wojciech Wiewiorowski, Acting European Data Protection Supervisor, who highlighted Giovanni's legacy in the data protection and privacy community.
For more information on the awards and submitted projects, visit the ICDPPC website.