Navigating the Global Data Privacy Landscape: the 2020 GPA Census
Every three years the GPA takes stock of the work of the Global Privacy Assembly (GPA) membership through the GPA Census. This work began in 2017, and the 2020 Census marks the second Global Privacy Assembly Census.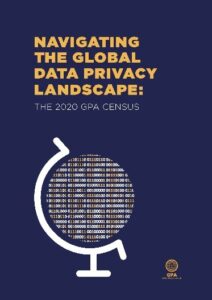 The GPA Census 2020 collected information from 70 members to provide a 'point in time' picture of the policies and delivery approaches that currently guide and regulate data protection and privacy globally.
The Census provides a useful reference tool for those whose business and data crosses jurisdictions and to national policy makers considering new legislative approaches. It also supports member authorities' capacity building and collaboration through dissemination of 'how it's done' in other jurisdictions.
Finally, the data in this Census informs the GPA's Working Groups which are responsible for delivering activity in support of the GPA 2019-2021 Conference Strategic direction and the successor document to follow.
The design of the report is founded in the GPA aspiration, which is to: "create an environment in which privacy and data protection authorities around the world are able to act". The words within this aspiration have been translated into binary code, and we wanted to convey that the report is about data protection and privacy authorities across the world by using the image of the globe.
This report bears many similarities to the picture reported in the 2017 census, but there are some noteworthy differences in 2020, and we look forward seeing how the privacy landscape changes in the next edition, in 2023.
You can read the full document here.
You can read the 2017 Census here.