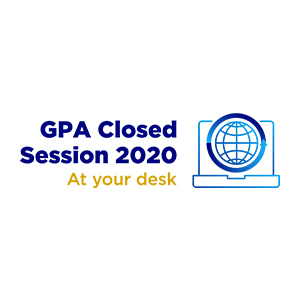 The Global Privacy Assembly (GPA) Executive Committee and the GPA Secretariat are delighted to announce the Global Privacy Assembly 2020 Closed Session – At Your Desk on Tuesday 13 October, Wednesday 14 October and Thursday 15 October 2020, from 11:00-14:00 (UK time) for GPA Members and Observers only.
A unique event this year, the Global Privacy Assembly will bring together the GPA members and observers online for the very first time to engage in rich debate and high-level decision-making, from the comfort of your own home/office. The event will consist of three separate three-hour online sessions from 11:00-14:00 (UK time) hosted by the GPA Secretariat at the Information Commissioner's Office (ICO) UK on the Microsoft Teams platform.
Our work involving both Members and Observers in shaping the Global Privacy Assembly this past year has been defining, and in these exceptional times, in a fast-paced environment, the GPA has played a positive role, demonstrating pragmaticism and enabling the critical sharing of information amongst the membership.
The Global Privacy Assembly 2020 Closed Session – At Your Desk will highlight the work of the GPA this year, have your say and get the latest information on the:
GPA's contribution to supporting our members with analysis of the most pressing priority policy matters at global level, and our progress against the GPA Strategic Direction;
GPA's impact in helping members to work with their governments to address the global COVID-19 pandemic, revealing the role and contribution of the GPA COVID-19 Taskforce; and
Debate and influence the GPA's core business, strengthening the GPA's voice on the international arena.
For more information on the Closed Session and registration visit https://globalprivacyassembly.org/gpa2020
Please contact the GPA Secretariat if you have any queries: secretariat@globalprivacyassembly.org